Food supplements. Facts on the subject and status report.
The purpose of food supplements is to supplement the normal diet with the nutrients necessary for our organism. These food products consist of concentrates of nutritional sources such as vitamins, minerals, amino acids, essential fatty acids, enzymes, fibre, plant and/or herbal extracts… We find food supplements in various formats in order to be dosed and taken in small quantities: capsules, tablets, pills, liquid ampoules, vials, droppers, chewables, syrups…
In this case, we are going to highlight the liquid vial format as it provides better results than the others.
In the liquid format there is a greater amount of essential nutrients that interact with each other and thanks to this fusion, their effect is enhanced. For example, vitamin D is better absorbed when taken together with magnesium. Similarly, collagen is more effective when ingested together with vitamin C.
When food supplements are in liquid form, they help our bodies absorb the nutrients they are providing more quickly and effectively. This is because the active ingredient is released earlier and takes less time to be assimilated.
As for its use, the liquid format is very practical and can be taken anywhere. With a single dose a day, we can obtain the recommended daily amounts of vitamins and minerals.
Food supplements on the international market
Main importing countries from 2015 to 2019

Source: own elaboration with data from https://trade.nosis.com/es
The graph shows that from 2017 onwards, an inequality in the volume of imports begins to appear. The countries that stand out from the rest are the United States and China, and the reason for this is the trade war between the two countries. This war has repercussions on other countries, especially those with stronger ties to the US and/or China, on the economy and on global expansion.
Evolución de las importaciones durante el año 2020
Source: own elaboration with data from https://trade.nosis.com/es
Throughout 2020, countries have demanded more food supplements in the spring months when home confinement was established in much of the world.
Annual growth and tariff rate in 2019

Source: own elaboration with data from https://trade.nosis.com/es
The countries with the highest annual growth rate are the United States (up 34% compared to 2018) and China (up 27% compared to 2018).
The hostilities between the US and China and between China and the US have been reflected in the imposition of tariffs to hinder the purchase and sale of products between them.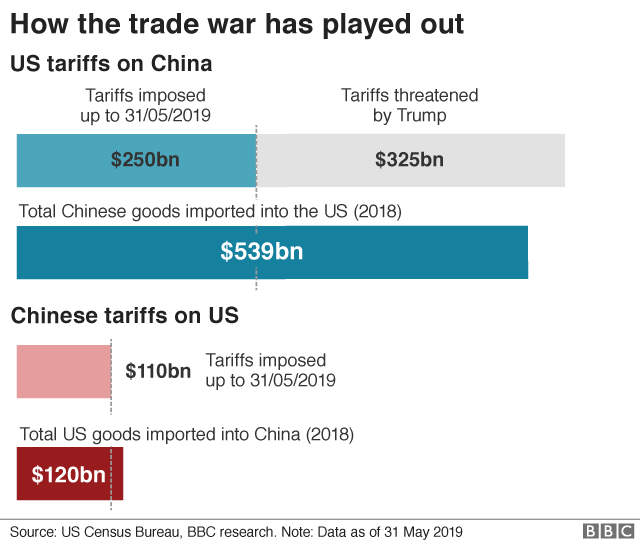 Source: US Census Bureau, BBC research.
Sources